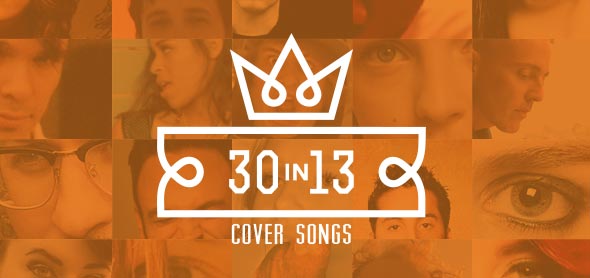 over the course of this week, i'll be posting my annual best of lists. as a complete list nerd, this is my favorite time of the year here on the ol' blog.
here's the lists i'll be posting:
yesterday: new music discoveries
today: cover songs
tomorrow (thursday): songs
friday: albums
year in and year out, this list proves to be, by far, the most popular. whether it's a lighthearted ironic cover or a thoughtful re-imagining of a classic, people love a good cover. with this list, i've tried to run the entire gambit.
so, here's my list for 2013:
30. radioactive (imagine dragons): daisy mallory
29. get lucky (daft punk): daughter
28. wicked game (chris isaak): london grammar
27. with or without you (u2): twin shadow
26. summertime sadness (lana del rey): miley cyrus
25. we can't stop (miley cyrus): neon hitch
24. ya hey (vampire weekend): phosphorescent
23. cecilia (simon & garfunkel): coin
22. it's not right, but it's ok (whitney houston): chvrches
21. we can't stop (miley cyrus): postmodern jukebox
20. pony (ginuwine): abbe may
19. mirrors (justin timberlake): boyce avenue
18. you make my dreams come true (hall & oates): bille tweddle
17. faith (george michael): lake street dive
16. take my breath away (berlin): we are scientists
15. ready to start (arcade fire): tears for fears
14. dancing in the dark (bruce springsteen): eddie berman and laura marling
13. karma police (radiohead): tree
12. this is how we do it (montell jordan): alunageorge
11. climax (usher): dirty projectors
10. somewhere only we know (keane): lily allen

9. back to black (amy winehouse): andre 300 and beyonce

from the album: the great gatsby ost
8. i wanna be like you (jungle book): alunageorge

7. royals (lorde): saints of valory

6. take me home, country roads (john denver): brandi carlile

from the album: the music is you: a tribute to john denver
5. royals (lorde): walk off the earth

4. strong enough (sheryl crow): haim

3. everybody wants to rule the world (tears for fears): lorde

from the album: the hunger games: catching fire ost
2. pure imagination (willy wonka): fiona apple

1. tessellate (alt-j): ellie goulding

you've gotten a taste of the top 10, but i've created an album with all 30 tracks for your downloading pleasure.