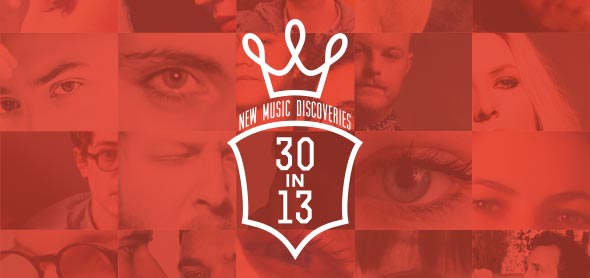 over the course of this week, i'll be posting my annual best of lists. as a complete list nerd, this is my favorite time of the year here on the ol' blog.
here's the lists i'll be posting:
today: new music discoveries
tomorrow (wednesday): cover songs
thursday: songs
friday: albums
for my best new music discoveries list, these are bands that i personally initially discovered during this year. it doesn't mean that they first appeared to everyone or within the industry this year, but rather, i discovered them in 2013. additionally, it includes artists who i've been familiar with for awhile (natalie maines, for example) but released their first solo album in 2013.
so, from little known up-and-comers to some of the hottest bands of the year, here's my list for 2013:
30. overseas
29. white lies
28. london grammar
27. blood orange
26. banks
25. white denim
24. shelby earl
23. serena ryder
22. everything everything
21. dan croll
20. superhumanoids
19. caroline smith
18. rhye
17. the shouting matches
16. born ruffians
15. holly williams
14. the lone bellow
13. american authors
12. mø
11. woodkid
10. water liars

key album: wyoming
key track: fake heat
learn more: waterliarsmusic.com
why? because no other band made lonely sound so good in 2013.
9. bastille

key album: bad blood
key track: pompeii
learn more: bastillebastille.com
why? because sometimes you just want good, fun pop music.
8. hozier

key album: take me to church ep
key track: take me to church
learn more: hozier.com
why? because soulful music and pop-leaning melodies don't have to be divorced.
7. quadron

key album: avalanche
key track: lft
learn more: quadronmusic.com
why? the exuberance of lft alone was enough to hook me and the rest of the album sold me.
6. betty who

key album: the movement ep
key track: you're in love
learn more: bettywhomusic.com
why? if she can re-imagine pop music in a 5-song ep, then look out for what's to come.
5. autre ne veut

key album: anxiety
key track: play by play
learn more: autreneveut.com
why? alt r&b make a name for itself in 2012 and people like autre ne veut have continued to perfect the art.
4. natalie maines

key album: mother
key track: without you
learn more: nataliemainesmusic.com
why? nearly 10 years ago, she made a country music hater fall in love with the dixie chicks and she continues to amaze on her debut solo project.
3. sky ferreira

key album: night time, my time
key track: you're not the one
learn more: skyferreira.tumblr.com
why? with so much buzz surrounding her for so long, it was a minor miracle that she created an album that lived up to every bit of it.
2. lorde

key album: pure heroine
key track: royals
learn more: lorde.co.nz
why? royals was this year's crazy (gnarls barkley). that alone punches her ticket to the top of this list.
1. haim

key album: days are gone
key track: the wire
learn more: haimtheband.com
why? when "new folks meets 90s r&b" describes your music, i'm in.
if you'd like to learn more about these artists, i've created a mix of songs that will help you discover more.