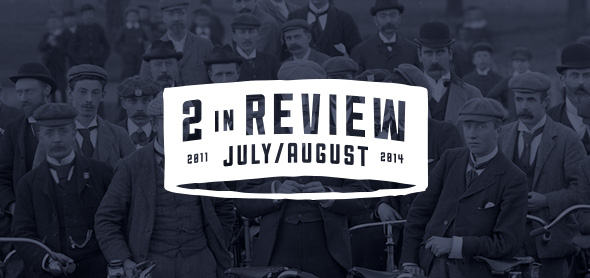 somehow, it's already been two months since our last two in review, so let's do it again, shall we?
bottom line: the first half of 2014 hasn't been that great for music. no doubt, there's been a handful of really great albums, but there's not been the kind of consistency of years past. these past couple months have been particularly exemplary of that. nevertheless, there were still 20 great tracks that emerged to form this month's two in review.
so, here's the lineup for the july/august edition:
1. bleachers: i wanna get better [from strange desire]
2. bahamas: all the time [from bahamas is afie]
3. jenny lewis: aloha & the three johns [from the voyager]
4. sheppard: these people [from bombs away]
5. david bazan: deny myself [from bazan monthly volume 1]
6. la roux: sexotheque [from trouble in paradise]
7. rustie: attack (ft. danny brown) [from green language]
8. laura welsh: cold front [from laura welsh]
9. spoon: do you [from they want my soul]
10. weird al yankovic: with my own eyes [from mandatory fun]
11. bon iver: heavenly father [from wish i was here ost]
12. alt-j: every other freckle [from this is all yours]
13. röyksopp & robyn: do it again [from do it again]
14. imogen heap: the listening chair [from sparks]
15. sean watkins: the god you serve [from all i do is lie]
16. broods: mother & father [from evergreen]
17. lauryn hill: black rage (demo) [from unreleased]
18. ty segall: feel [from manipulator]
19. sia: burn the pages [from 1,000 forms of fear]
20. sucré: young and free [from loner ep]
get your download on, folks.