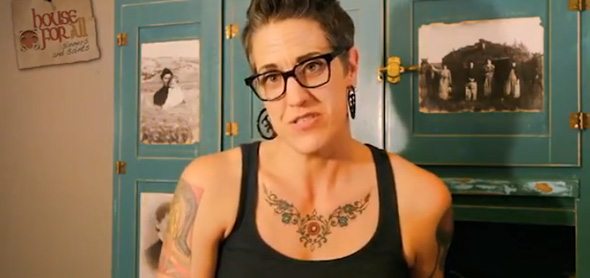 the nines is an online "conference" in which invited leaders and speakers submit short videos discussing a set of given topics. the conference has been going on for several years and it's had its fair share of controversy and criticism. last year, there was quite an online stir when rachel held evans and others pointed out that in over a hundred speakers, only 4 were women. (while they're doing better with that this year, it's still pretty lopsided…)
this year, based on the early submission by pastor and author nadia bolz-weber, i suspect there could be a bit more controversy.
one of the topics is "the church and same-sex marriage." the description reads,
There is no greater and faster shift in culture today than the swing towards the acceptance of same-sex marriage. Church leaders need to determine the right path moving forward; loving and ministering to the LGBT community, while at the same time holding-fast to a theological position (held by most) that prohibits the practice of homosexuality.
[facepalm]
nadia bolz-weber's church consists of people from all walks of life, including many queers, gays and lesbians, to which she conceded her time to speak. what came out of it is a really beautiful reflection of the diversity that the church should be embracing. you know, rather than "holding-fast" to exclusivity. but i diverge…
we'll see where this video goes. i assume the nines will play it on the day of their conference, but i wouldn't be surprised if they pull it. i certainly hope it plays and that people are open enough to consider its merits. take a look.