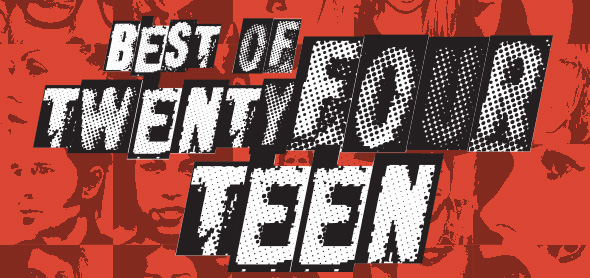 it's the most wonderful time of the year! christmas? sure, that's fine. but i'm talking about end-of-the-year list season!
i geek out on this stuff, using valuable brain space for literally months thinking about these lists and how things will shake out for them. so i'm excited to kick off several days of music lists that look back on 2014. here's the lineup for the next few days.
today: new music discoveries
tomorrow (tuesday): cover songs
wednesday: songs
thursday: albums
for new music discoveries, this kicks off a theme of all these lists. namely, this was a down year for music. no doubt, there was some bright spots, but all in all, it was a bit disappointing. in the past, with this particular list, it was difficult to narrow it down to just 30. this year, that task was far less challenging. quite frankly, there's probably a handful of these that wouldn't have cracked the top 30 or 40 in year's past. but still, i think there's some really strong artists on here that have quickly become some of my favorites.
editorial note: a clarification i offer every year with this list is that these aren't necessarily brand new artists. artists in this list fall into one of four categories:

1. they're a brand new artist
2. they released their first full length album this year (betty who released an EP last year, but 2014 was her first full length album)
3. they're a first-time solo artist (think of gwen stefani putting out her first solo album, even though she'd been with no doubt for a decade)
4. i just discovered them this year (example: ty segall has been around for years, but i'd never heard of him until this year).
30. teen
29. vance joy
28. paloma faith
27. white sea
26. owl john
25. empires
24. banks
23. saintseneca
22. verite
21. haerts
20. tweedy
19. broods
18. blake mills
17. colony house
16. phox
15. justin currie
14. ty segall
13. future islands
12. the preatures
11. you + me
10. laura welsh
9. mø
album: no mythologies to follow
8. nina persson
album: animal heart
7. st paul & the broken bones
album: half the city
6. bleachers
album: strange desire
5. the war on drugs
album: lost in the dream
4. sam smith
album: in the lonely hour
3. hozier
album: hozier
2. betty who
album: take me when you go
1. sylvan esso
album: sylvan esso
so, who did i miss in 2014? let me know who i should go and check out before 2015 gets here.
also, as a bit of a end-of-the-year gift, you can download a mix with a track from each artist.