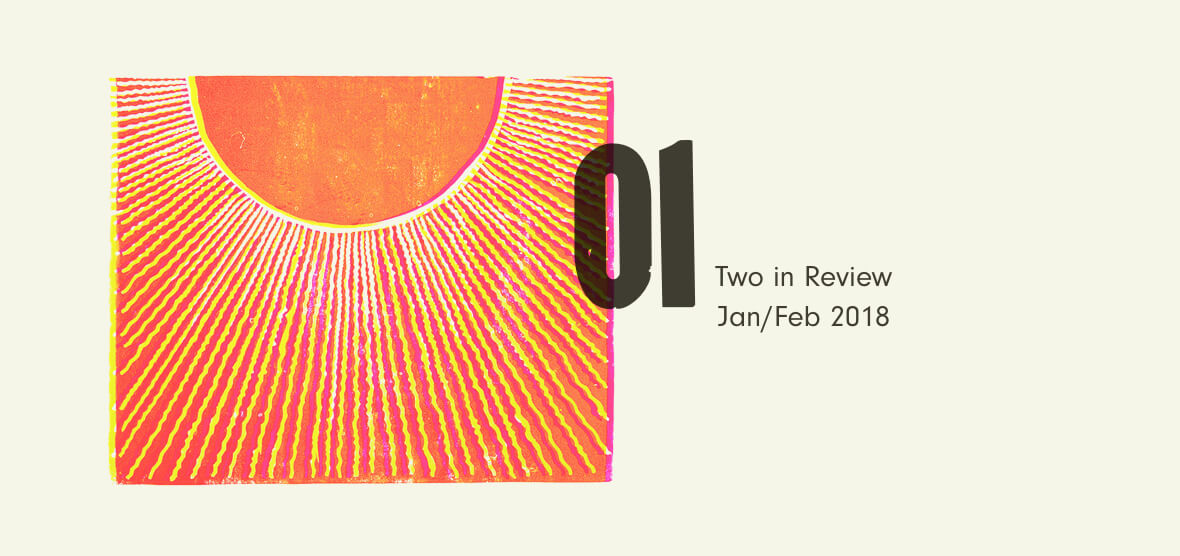 hi, friends. you might've noticed a couple months ago that we changed years. so, here we are: time for another year of two in review.
i can't remember a more difficult time narrowing down a list of songs for a two in review than this one. there's been an absolute deluge of really great music to start off 2018. even in the last 24 hours after i had already finalized the mix, there were a couple new tracks that were released that i seriously considered bumping other tracks so i could fit them in. if january and february are any indicator of the year we're gonna have in music, it's looking like 2018 will be a banner year.
alrigtht, so let's get to it. here's the lineup for the january/february edition of two in review:
1. sucré: inside [from TBA]
2. børns : second night of summer [from blue madonna]
3. matt and kim: forever [from almost everyday]
4. sylvan esso: parad(wm)e [from parad(wm)e]
5. noah kahan: hurt somebody (ft. julia michaels) [from hurt somebody]
6. father john misty: mr. tillman [from TBA]
7. eels: the deconstruction [from the deconstruction]
8. brandi carlile: sugartooth [from by the way, i forgive you]
9. frank ocean: moon river [from moon river]
10. busta rhymes: get it (ft. missy elliott & kelly rowland) [from TBA]
11. francis & the lights: just for us [from just for us]
12. janelle monae: make me feel [from dirty computer]
13. justin timberlake: sauce [from man of the woods]
14. tune-yards: coast to coast [from i can feel you creep into my private life]
15. u.s. girls: m.a.h. [from in a poem unlimited]
16. ball park music: the perfect life does not exist [from good mood]
17. black eyed peas: street livin' [from TBA]
18. steve lacy: dark red [from TBA]
19. kevin max: eurorail [from AWOL]
20. they might be giants: i left my body [from i like fun]
get your download on, folks.