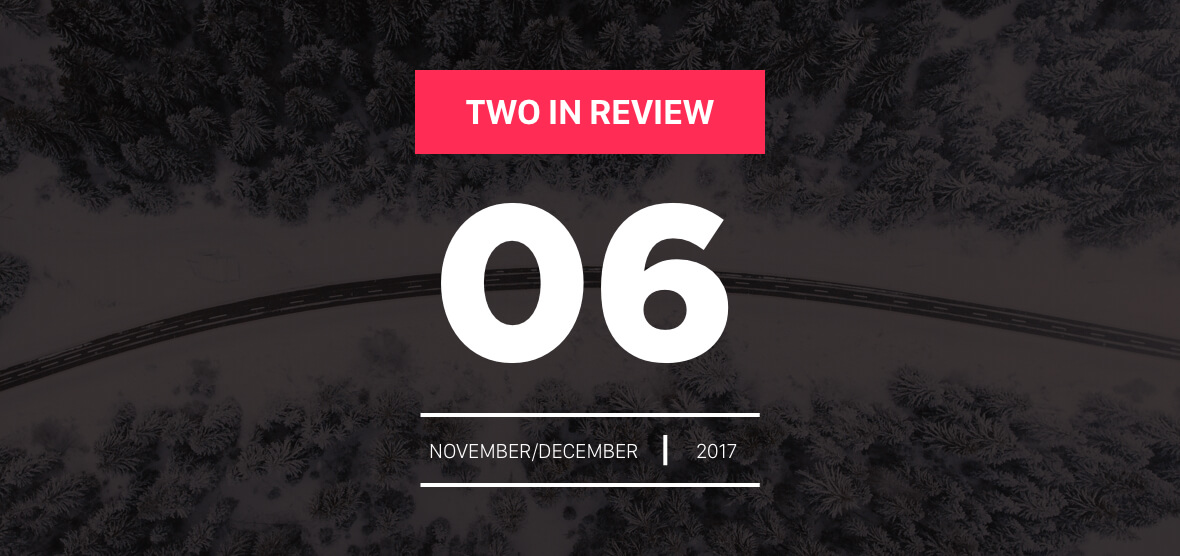 hey guys, for the last time in 2017, it's time for two in review.
this has been a particularly great year for music. the last couple months — while overall good — have been suuuuuper slow for new music. nevertheless, this is a solid mix. as always, i try to put together songs that represent a wide variety of genres and styles, and i think this mix accomplishes that. there's a little something for everybody here.
so, let's do it. here's the lineup for the november/december edition of two in review:
1. N.E.R.D.: lemon (ft. rihanna) [from no_one ever really dies]
2. ravyn lenae : sticky [from crush]
3. sam smith: nothing left for you [from the thrill of it all]
4. tennis: no exit [from we can die happy]
5. chris thile: falsetto [from thanks for listening]
6. first aid kit: fireworks [from ruins]
7. noel gallagher's high flying birds: if love is the law [from who built the moon?]
8. elbow: golden slumbers [from the best of]
9. u2: summer of love [from songs of experience]
10. eminem: castle [from revival]
11. miguel: banana clip [from war & leisure]
12. sleigh bells: favorite transgressions [from kid kruschev]
13. jorja smith: lost [unreleased]
14. sufjan stevens: tonya harding (in eb major) [from tonya harding]
15. brandi carlile: the joke [from by the way, i forgive you]
16. glen hansard: wheels on fire [from between two shores]
17. green day: back in the USA [from greatest hits: god's favorite band]
18. jeremih & chance: big kid again [from merry christmas lil' mama]
19. mat kearney: don't cry for me [from mat kearney]
20. i'm with her: see you around [from see you around]
get your download on, folks.