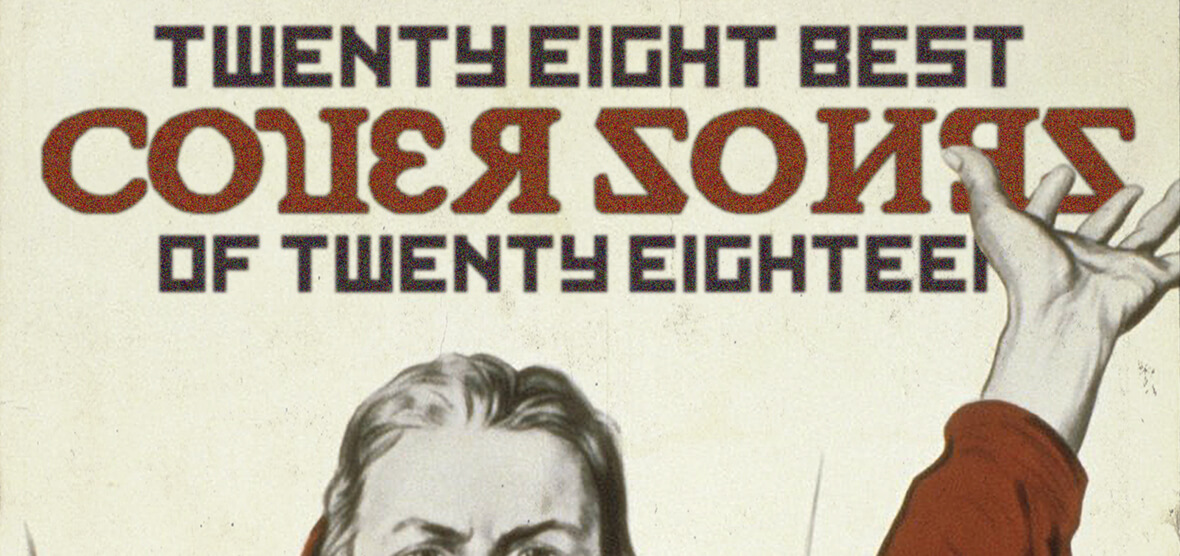 it's the most wonderful time of the year. yeah yeah, it's christmas and all, but most importantly, it's end-of-the-year list season. here's the plan for this week:
today: cover songs
tuesday: new music discoveries
wednesday: songs
thursday: albums
hands down, this list — best cover songs — is the most popular each year (in terms of downloads and general feedback). i have a few friends who text me throughout the year with cover songs that i should include on this list. much like other years, 2018 didn't disappoint, so it's another strong and fun list.
i always distinguish between two basic types of covers. first, there's the ironic cover in which an unlikely artist puts their own unique twist on a song you'd never expect. you could argue that there's a couple of those on this list, but none that are particularly over-the-top. on the other hand, there's the cover that masterfully reinterprets another artists' song. the ultimate examples of this might be jeff buckley's hallelujah or sinead o'connor's nothing compares 2 u. in the case of this list, most every song fall into the latter category.
alright, let's get to it. here's the 28 best cover songs of 2018:
28. radical face: jolene (dolly parton)
27. stacey: 2 become 1 (spice girls)
26. nick west: these boots are made for walkin' (nancy sinatra)
25. tyler, the creator: you're a mean one, mr. grinch (thurl ravenscroft)
24. troye sivan: somebody to love (queen)
23. skylar grey: stand by me (ben e. king)
22. prince fox: the middle (jimmy eat world)
21. the longshot: goodbye to romance (ozzy osbourne)
20. kelly hoppenjans: enter sandman (metallica)
19. mountain man: slow burn (kacey musgraves)
18. the lil' smokies: rocket man (elton john)
17. billie eilish: hotline bling (drake)
16. the pains of being pure at heart: runnin' down a dream (tom petty)
15. dresage: linger (the cranberries)
14. walker lukens: i want a new drug (huey lewis & the news)
13. con brio: heart-shaped box (nirvana)
12. 5 seconds of summer: killer queen (queen)
11. mountain man: hot knife (fiona apple)

10. frank ocean: moon river (audrey hepburn)

9. liz huett: you don't know how it feels (tom petty)

8. mack: you get what you give (the new radicals)

7. me'shell ndegeocello: waterfalls (tlc)

6. brett eldredge: crazy little thing called love (queen)

5. weezer: africa (original)

4. alessia cara: i guess that's why they call it the blues (elton john)

3. soccer mommy: wide open spaces (dixie chicks)

2. maren morris: mona lisas and mad hatters (elton john)

1. the lone bellow: pink rabbits (the national)



i've just never gotten into the national and to be honest, i had never heard this song. when the lone bellow put out this EP, i thought this was an original. it wasn't until long after its release that i learned it was a cover. needless to say, i'm a bigger fan of this version than the original.
so, what did i miss in 2018? let me know what i should go and check out before 2019 gets here.
as a bit of a end-of-the-year gift, you can download a mix with all the tracks.