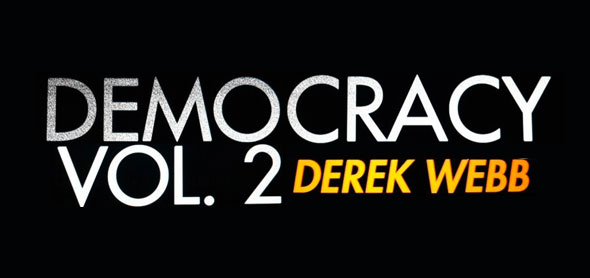 throughout 2010, i blogged about derek webb's latest innovative project called democracy vol. 1. fans were able to cast votes for up to 12 songs that they wanted webb to cover. then, the 12 songs receiving the most votes would be covered by webb for the album. the album was recorded over the span of 2010, with 1 track being recorded and released each month. from january to december, webb released 1 track each month. for those who would like to catch up, here's the total track listing (with links to my blog posts):
1. the beatles: while my guitar gently weeps
2. coldplay: fix you
3. bob dylan: the times they are a-changin'
4. gnarls barkley: who's gonna save my soul
5. sufjan stevens: chicago
6. u2: where the streets have no name
7. huey lewis and the news: power of love
8. the beatles: eleanor rigby
9. simon and garfunkel: the sound of silence
10. radiohead: karma police
11. leonard cohen: hallelujah
12. traditional hymn: come thou fount of every blessing
so what now?
well, naturally, he's doing democracy vol. 2. today, he sent out the final voting for the year's possible tracks. a couple weeks ago, there was an initial round where each person nominated 3 songs (my 3 votes were cee lo's f**k you, arcade fire's we used to wait—which made the final list—and elbow's on a day like this). that list was then narrowed to the 60 following songs. from this list, each person could choose 10 of them (since the process this year is truncated).
i thought the list was relatively intriguing and since it's limited to those who "bought into" the project, i thought i'd share it here. there is definitely some overlap from last year with the nominated songs. in fact, some of the songs i voted for last year were included this year again, but i didn't vote for them (specifically, queen's bohemian rhapsody, the swell season's falling slowly, johnny cash's hurt & bon jovi's livin' on a prayer). (i did vote for dc talk's jesus freak again this year…i just wanna hear how he would handle a song like that…) after hearing a full year's volume, my mentality changed about the kind of songs i'd like to hear.
so, here's the list. the songs i voted for are in bold. (as a fun sidenote, i did the math and 16% of the nominated songs are arcade fire songs…wow…)
1. All Along The Watchtower – Bob Dylan
2. Atlantic City – Bruce Springsteen
3. Awake My Soul – Mumford & Sons
4. Bad Romance – Lady Gaga
5. Be Thou My Vision – Hymn
6. Bohemian Rhapsody – Queen
7. Born To Run – Bruce Springsteen
8. Bridge Over Troubled Water – Simon & Garfunkel
9. Chasing Cars – Snow Patrol
10. City With No Children – Arcade Fire
11. Closer To Fine – Indigo Girls
12. Crazy – Gnarls Barkley
13. Creed – Rich Mullins
14. Creep – Radiohead
15. Don't Think Twice, It's All Right – Bob Dylan
16. F**k You – Cee-lo Green
17. Fake Plastic Trees – Radiohead
18. Falling Slowly – Once Soundtrack
19. Fire & Rain – James Taylor
20. Firework – Katy Perry
21. Flood – Jars of Clay
22. God Only Knows – The Beach Boys
23. Graceland – Paul Simon
24. Hard To Get – Rich Mullins
25. Hide & Seek – Imogen Heap
26. How He Loves Me – John Mark McMillan
27. Hurt – Johnny Cash/Nine Inch Nails
28. I Want It That Way – Backstreet Boys
29. In Your Eyes – Peter Gabriel
30. Jesus Freak – DC Talk
31. Jesus Walks – Kanye West
32. Jesus, Etc. – Wilco
33. Let It Be – The Beatles
34. Little Lion Man – Mumford & Sons
35. Livin On A Prayer – Bon Jovi
36. Message In A Bottle – Police
37. My Body Is A Cage – Arcade Fire
38. Oh My God – Jars of Clay
39. One – U2
40. Poison & Wine – The Civil Wars (duet with Sandra)
41. Ready To Start – Arcade Fire
42. Rebellion (Lies) – Arcade Fire
43. Revolution – The Beatles
44. Sigh No More – Mumford & Sons
45. Sprawl II – Arcade Fire
46. Such Great Heights – Postal Service/Iron & Wine
47. The Cave – Mumford & Sons
48. The Lust, The Flesh, and the Pride of Life – The 77's
49. The Man Comes Around – Johnny Cash
50. The Suburbs – Arcade Fire
51. Theologians – Wilco
52. Thriller – Michael Jackson
53. Thunder Road – Bruce Springsteen
54. To Make You Feel My Love – Bob Dylan
55. Trouble – Ray Lamontagne
56. Wake Up – Arcade Fire
57. We Used To Wait – Arcade Fire
58. What's So Funny 'Bout Peace, Love, & Understanding – Elvis Costello
59. With God On Our Side – Bob Dylan
60. Wonderwall – Oasis
which of these would you have chosen?
which of these am i crazy for choosing?
are there songs not included that you'd love to hear derek webb cover?