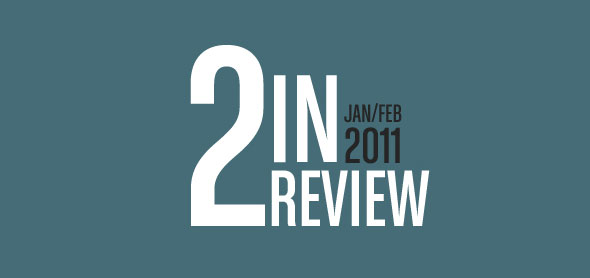 last year, i began a new blog series, of sorts, in which i compiled a mix of the best music i had discovered in the preceding two months. the series and mixes are called, two in review. read the original post for details of why i started this.
feel free to go back and check out past editions:
another couple months have passed by, so it's time to once again bring you two in review. enjoy.
here's the lineup for the january/february 2011 edition:
1. the valley / eisley [from the forthcoming the valley]
2. neat little rows / elbow [from the forthcoming build a rocket boys!]
3. rolling in the deep remix (ft. childish gambino) / adele (jamie xx) [from 21]
4. lotus flower / radiohead [from the king of limbs]
5. ragamuffin / selah sue [from ragamuffin ep]
6. blackbird / ben ottewell [from shapes & shadows]
7. the roller / beady eye [from different gear, still speeding]
8. bound away / cake [from showroom of compassion]
9. the ladder / andrew belle [from the ladder]
10. the magic / joan as police woman [from the deep field]
11. barton hollow / the civil wars [from barton hollow]
12. tree by the river / iron & wine [from kiss each other clean]
13. nervous lonely night / jessica lea mayfield [from tell me]
14. cry cry cry / nicole atkins [from mondo amore]
15. i need a doctor (ft. eminem & skylar grey) / dr. dre [from the forthcoming detox]
16. firewall / bright eyes [from the people's key]
17. glorify / ivan & alyosha [from fathers be kind]
18. youth knows no pain / lykke li [from the forthcoming wounded rhymes]
19. suffocation blues / black pistol fire [from black pistol fire]
20. whirring / the joy formidable [from the big roar]
**bonus track :: the moirae / carina pearson [from eyes closing]
**several weeks ago, i was contacted by carina pearson, a new artist based in nashville. she asked me to blog about her newly released ep, eyes closing and even sent me the album (although anyone can download it for free on her bandcamp page). my general rule is that i don't obligated to blog about requested albums (or even offer a positive review if i choose to blog about it), but being that i really liked her music, i thought it was appropriate to add it to this mix. she's a great and unique new artist worth checking out.