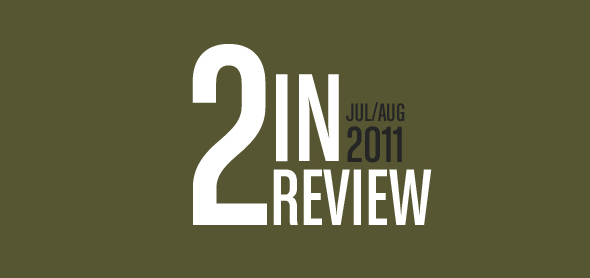 in mid-2010, i began a new blog series, of sorts, in which i compiled a mix of the best music i had discovered in the preceding two months. the series and mixes are called, two in review. you can read the original post for details of why i started this.
feel free to go back and check out past editions:
another couple months have passed by, so it's time to once again bring you two in review. the past couple months have been a mixed music bag. there's been some stuff i've really love and looked forward to, but all in all, there hasn't been the long list of music that i couldn't fit in like past two in reviews. regardless, i think this is another great collection. hope you enjoy.
here's the lineup for the july/august 2011 edition:
1. otis / jay-z & kanye west [from watch the throne]
2. might find it cheap / blitzen trapper [from american godlwing]
3. when my name is spoken / spirit family reunion [from spirit family reunion]*
4. we all try / frank ocean [from nostalgia, ultra]
5. odd soul / mutemath [from the forthcomingodd soul]
6. count on me / mat kearney [from young love]
7. birds / kopecky family band [from the disaster]*
8. in bloom / butch walker & the black widows [from spin magazine's newerwind]
9. i'm a goner / matt & kim with soulja boy & andrew w.k. [from converse's 3 artists 1 song project]
10. can't wake up / the apache relay [from american nomad]
11. (you're so square) baby, i don't care / cee-lo green [from rave on buddy holly]
12. bronx sniper / heavenly mister [from mister heavenly]
13. up up up / givers [from in light]
14. hits me like a rock / css [from la liberaciòn]
15. ethiopia / red hot chili peppers [from their forthcoming i'm with you]
16. the birds part 1 / the weeknd [from thursday]
17. made in america / jay-z and kanye west [from watch the throne]**
18. what the water gave me / florence + the machine [from her forthcoming not-yet-titled album]
19. the death of you and me / noel gallagher [from his forthcoming noel gallagher's high flying birds]
20. echo park / ximena sariñana [from ximena sariñana]
BONUS: back to black / amy winehouse [from back to black]†
*these albums released in 2010 but i just discovered them thanks to paste's newly launchd mplayer.
**yes, i included 2 tracks from this album. i couldn't just pick 1…in fact, i could've picked another.
† i thought i'd offer a bit of a tribute. this album remains one of my favorite from the past decade. her life and her music will be missed.
enjoy!