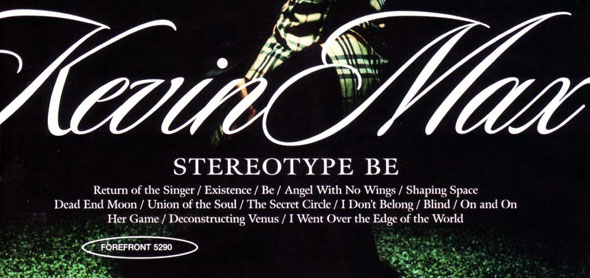 10 years ago yesterday (i generally don't post on the weekends…so this is appearing a day late), kevin max's solo debut, stereotype be was released. on the list of my 25 favorite albums of the 2000s, it landed at #2, so it was obviously a significant album for me. i thought i'd offer a few thoughts about that day 10 years ago.
on tuesday, august 28, 2001, i didn't make it to my 9 a.m. writing class. when i left my house that morning, i had every intention of being in attendance but ultimately, it didn't happen.
—————————————–
i grew up listening to two types of music: my dad's southern gospel (not by choice) and videos in heavy rotation on mtv. those two very different worlds comprised the brunt of my music universe. at the tail end of 1995, though, i stumbled upon an album by a band that played "christian rock" music.
could it be that my two music worlds could actually cross paths? could it be that somehow the stale cliches of my dad's southern gospel could collide with the sonic freshness of mid-90s popular music?
well, i found that it could. and it did.
enter dc talk's jesus freak.
at the age of 15, i found something i could cling to. and buy into. and build an identity around.
throughout the remainder of the 90s (jesus freak in 1995 & supernatural in 1998), i went from a casual fan to the most loyal follower. as the 90s drew to a close, though, it was clear that the 3 members of the band—kevin max, toby mckeehan and michael tait—were moving in increasingly different directions.
in early 2001, the 3 announced they'd be releasing solo albums at the end of the year. naturally, i eagerly anticipated the releases. while i was excited about both toby and michael's albums, i was most interested to hear kevin's release. known as the enigmatic, rebellious member of the band, i was particularly interested to see if he'd toe the contemporary christian music line or if he'd take this as an opportunity to spread his creative wings.
—————————————–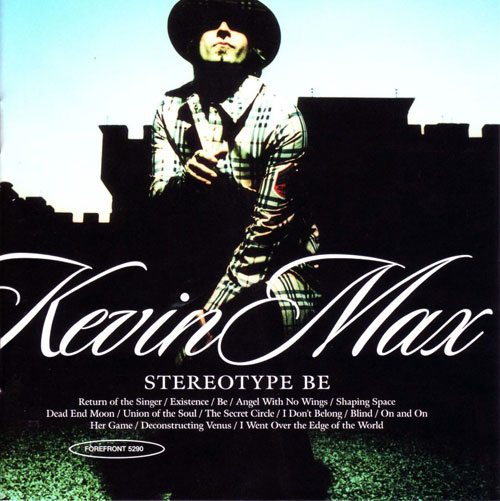 before heading to campus that tuesday morning, i eagerly swung by a local record shop and picked up a copy of kevin's album, stereotype be. now, i've got a thing with physical CDs (remember those?) where i want to sit and listen while i thumb through the booklet. so, i didn't open it and pop it in until i got to the parking lot on campus (which was just a couple minutes away).
i don't say this to be melodramatic or swim in cliche, but for the first time in my life, as i listened to that album, i had a truly transcendent, spiritual experience.
i had albums that i loved and were important to me, but this was the first time that, in the moment of a first listen, an album truly moved me. it wasn't that the lyrics were particularly "christian" in the overt sense (which was a criticism of this album by many), but it was the sound and the energy and the innovation and the rich textures. even with its rich influences from rock past and present, it was truly like nothing i'd heard before.
i sat in my car, speakers blaring, for just under an hour—for the entirety of the album—disregarding the need to attend that 9 a.m. writing class. sometimes music and art and things more beautiful than life require the kind of attention that makes everything around you fade.
on that tuesday morning in a small parking lot just down the street from from uca's campus, the world around me faded and i had a newfound clarity.
10 year later, the world doesn't necessarily fade away when i listen, but it still sounds just as fresh and new to me today as it did then.
—————————————–
it's hard to describe a music experience like this with just words. so, do yourself a favor and go find a copy of stereotype be. in the meantime, i'm posting a few of my favorite tracks from the album. (i'd post the entire album, but i'll leave some to the imagination…)
existence:

angel with no wings:

shaping space:

dead end moon:

i don't belong: