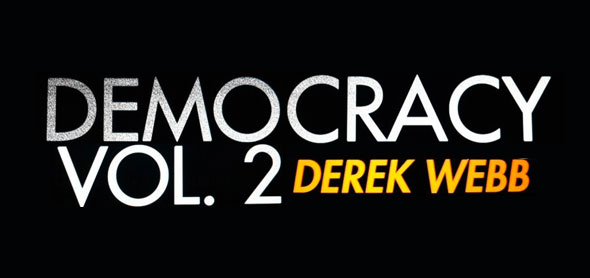 if you'd like to take a look back at 2010's democracy vol. 1, you can find all those posts through the following links:

january | february | march | april | may | june | july | august | september | october | november | december
throughout the year, i've been blogging about derek webb's ongoing project called democracy vol. 2. fans were able to cast votes for up to 10 songs that they wanted webb to cover. then, the 10 songs receiving the most votes would be covered by webb for the album. the collection is being recorded over the span of 2011, with 1 track being recorded and released each month. from march to december, webb has/will release 1 track each month. for those who would like to catch up, here's links to each month's blog posts so far:
1. cee lo green: f**k you
2. bon jovi: livin' on a prayer
3. the beach boys: god only knows
4. u2: one
5. traditional: be thou my vision
yesterday, we found out august's track: simon & garfunkel's bridge over troubled water.
admittedly, i was a bit disappointed to learn we'd be getting another simon & garfunkel track. it isn't that i dislike simon & garfunkel (i generally like them, actually), but we've already gotten one last september with the sound of silence. that was probably one of my least favorite tracks from last year, so my hopes were relatively low for this one.
i'm glad to report that my low expectations were far surpassed.
this certainly isn't the best track of 2011, but derek did a great, simple cover. he didn't try to do too much. that would've killed it. it's a simple song that's meant to connect in the heart, not as much in purely the sonic innovation. he did it justice and created a great track. it's not one i'll crank up in my car when it comes on, but it's absolutely one i'll turn to in more introspective and quiet moments.
as always, don't take my word for it. check it out for yourself. here's the track.
derek webb / bridge over troubled water: