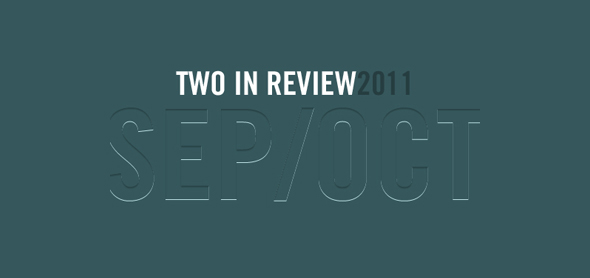 in mid-2010, i began a new blog series in which i compiled a mix of the best music i had discovered in the preceding two months. the series and mixes are called, two in review. you can read the original post for details of why i started this.
feel free to go back and check out past editions:
for anyone (read: nerds) who care anything about the album artwork, i've gone back and updated the artwork for each of the past editions.
another couple months have passed by, so it's time to once again bring you two in review. the past couple months have been pretty good in terms of new music. there's been a good mix of some highly anticipated albums (like noel gallagher's solo debut and coldplay) and some new discoveries (like lana del ray and gary clark, jr.). as always, i hope this is the springboard for you to discover the fullness of these artists' albums and catalogues.
here's the lineup for the september/october 2011 edition:
1. mutemath: prytania [from odd soul]
2. florence + the machine: shake it out [from ceremonials]
3. lana del ray: blue jeans [from her forthcoming debut album]
4. coldplay: hurts like heaven [from mylo xyloto]
5. damien rice: one [from ahk-toong bay-bi covered]
6. derek webb: revolution [from democracy vol. 2]
7. noel gallagher's high flying birds: record machine [from his self-titled debut]
8. jack white: love is blindness [from ahk-toong bay-bi covered]
9. lisa hannigan: knots [from passenger]
10. gary clark, jr: bright lights [from the bright lights ep]
11. feist: the bad in each other [from metals]
12. the hawk in paris: science fiction [from his + hers]
13. brown bird: fingers to the bone [from salt for salt]
14. needtobreathe: white fences [from the reckoning]
15. the decemberists: e. watson [from the forthcoming long live the king]
16. st. vincent: cruel [from strange mercy]
17. wilco: i might [from the whole love]
18. kasabian: days are forgotten [from velociraptor!]
19. james morrison: slave to the music [from the awakening]
20. grouplove: colours [from never trust a happy song]
bonus: david crowder band: angels we have heard on high [from oh for joy]**
**i absolutely cannot get into christmas music until—at earliest—the beginning of december. but, i realized that the next two in review compilation won't be until just after christmas. i hope this can tide you over. 🙂
enjoy!