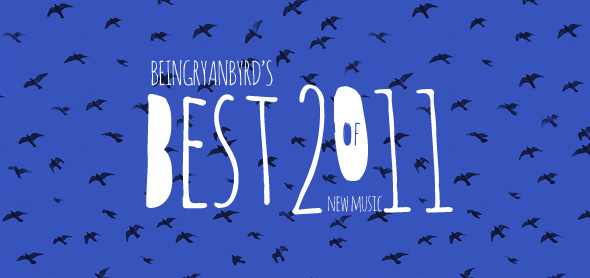 over the course of the next several days, i'll be posting my annual best of lists. as a complete list nerd, this is my favorite time of the year here on the ol' blog. here's the lists i'll be posting:
today: best new music discoveries
tomorrow (wednesday): cover songs
thursday: songs
friday: albums
for best new music discoveries of 2011, these are bands that i personally initially discovered during this year. it doesn't mean that they first appeared to everyone or within the industry this year, but rather, i discovered them in 2011. from up-and-coming british songbirds to the best new indie folk band, here's my list for 2011:
25. birdy
24. anni b sweet
23. amy lavere
22. ivan & alyosha
21. david wax museum
20. foster the people
19. alabama shakes
18. the black belles
17. the joy formidable
16. the belle brigade
15. kimbra
14. grouplove
13. the apache relay
12. abigail washburn
11. joan as police woman
10. leagues
key album: leagues ep
key song: magic
this is the most unknown supergroup of all time. comprised of music veterans tyler burkum, thad cockrell, jeremy lutito & mike simons, leagues released a three-song ep that caught everyone by surprise.
9. dale earnhardt jr jr
key album: it's a corporate world
key song: vocal chords
it would be easy to write off a band with a gimmicky name like this. but not these guys. they put out one of the best albums of the year and managed to create quite a bit of buzz leading into 2012.
8. the hawk in paris
key album: his + hers ep
key song: science fiction
much like the aforementioned leagues, this is a bit of a supergroup, consisting of dan haseltine, matt bronleewe and jeremy bose. haseltine, the lead singer of jars of clay, used this project as a chance to break from the mold of jars of clay.
7. kopecky family band
key album: the disaster (released 2010)
key song: birds
kopecky family band (who only has one person named kopecky in the group) emerged in 2010, but they were a new discovery for me this year. and i'm glad they were. they have a unique sound and has emerged as the one of the top indie live acts.
6. gary clark jr
key album: the bright lights ep
key song: bright lights
i heard about gary clark when i found out he would be opening for mutemath while they were in little rock (he ended up not opening). when i heard his music, i was excited to find someone who sounds like 1 part black keys, 1 part stevie wonder and 1 part something totally new.
5. frank ocean
key album: nostalgia
key song: we all try
frank ocean began getting quite a bit of buzz a couple years ago when he was dropped from his label. he stuck to his guns musically, believing that he was a talent worth hearing. and he was right. before putting out his debut album, he appeared on a series of high profile albums (kanye, jay-z, etc) and kept moving up the musical ladder.
4. cults
key album: cults
key song: go outside
here's the plan: start an indie band who samples cult leaders to make our music. no? yes. it worked for the appropriately named cults in 2011. in 2010, the buzz was huge for this band and all they did was back it up with their self-titled debut album.
3. lana del ray
key album: n/a (full album coming january 2012)
key song: video games
this was truly a scenario that couldn't have been predicted. whereas we've have youtube sensations that became stars, lana del ray was even more unknown than that. rather than youtube, she began to get buzz on smaller indie music blogs and behind the incredible song video games and blue jeans, she became one of the biggest music stories of 2011.
2. the weeknd
key album: house of baloons
key song: wicked games
much like lana del ray, the weeknd came out of nowhere. behind their own brand of dark r&b, they became a huge buzz band on the indie music blog circuit. the weeknd's music has no comparison in music and i think they'll continue to surprise us with great music.
1. the civil wars
key album: barton hollow
key song: poison and wine
their story doesn't get much better. joy williams and john paul jones were randomly paired at a songwriting workshop and after clicking, they decided to start a band. oh, and that band made one of the best albums of 2011. another great story here is how joy williams, a former contemporary christian artist, has become a hip, indie artist.
if you'd like to learn more about these artists, i've created a mix of songs that will help you discover more.
// download the zip //