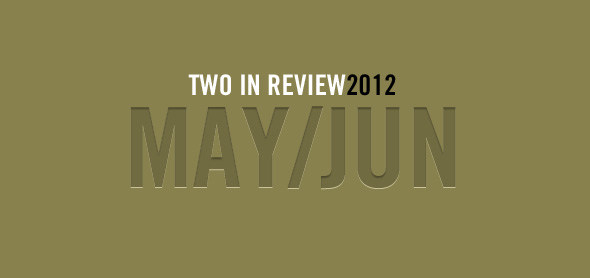 another couple months have passed by, so it's time to once again bring you two in review.
if you've missed past editions, here's the previous posts from 2012:
much like the last 2 in review, there was an incredible amount of great music the last couple months. and also like the last mix, that means, sadly, a ton of really great music didn't make the final list. throughout the last couple years of creating these mixes, i've had complaints from time to time about music that i left off. sometimes it's legit songs i loved and just loved others more, while sometimes it's just stuff i didn't like.
over the last couple mixes, though, i've gotten more and more of this type of feedback. let me offer a brief explanation—step by step—of how these mixes take shape. i make a smart playlist in itunes of all the albums from the past 2 months. then, i quickly go through it, making a list of songs that are potential keepers. for this particular mix, that list consisted of 59 songs that i liked/loved. what that means is that 39(!) had to be cut. i ask 3 questions in order to narrow down to the final 20: 1.) what are my favorite songs?, 2.) which songs work well together? (this eliminates some really good songs), & 3.) "the car test": which songs do i want to listen to and sing along with while i'm driving? (this also eliminates many good songs…particularly slower ones, quite frankly). and there you have it.
one final note: i'm not embarrassed of any of the music i listen to and, accordingly, i don't avoid including certain genres of music or certain bands. i don't care if the songs are "cool" or "indie" or if pitchfork gives it a stamp of approval. i choose what i like to listen to. moves like jagger is a fun song to listen to. karmin's brand of pop is great to sing along to in the car. for every several bad christian bands, there's at least 1 making good music. my point is that i'm largely uninterested in "indie cred" or music snobs snarking about my choices.
ok…rant over… that felt good… 😉
NOTE: i genuinely enjoy feedback, so please don't let the previous paragraph scare you away. 🙂 there might be music i just missed and you pointing that out is a helpful way to discover new music.
so, that gives some insights into how songs get chosen…or not chosen. yes, your favorite song from the past 2 months might also be a song i loved, but it might not fit all 3 of those criterion.
ok, without further ado (and rambling), here's the mix. i hope you enjoy.
here's the lineup for the may/june edition of two in review:
1. brandi carlile: hard way home [from bear creek]
2. dirty projectors: about to die [from their forthcoming swing lo magellan]
3. killer mike: southern fried [from r.a.p. music]
4. father john misty: hollywood forever cemetery sings [from fear fun]
5. ellie goulding: high for this (the weeknd cover) [internet release]
6. sola-mi: trust falling [from nexus ost]
7. bahamas: lost in the light [from barchords]
8. chester french: black girls [from music for tngrs]
9. david byrne & st. vincent: who [from their forthcoming love this giant]
10. frank ocean: pyramids [from his forthcoming channel orange]
11. garbage: battle of me [from not your kind of people]
12. sara watkins: i'm a memory [from sun midnight sun]
13. alt-j: breezeblocks [from an awesome wave]
14. selah sue: please (ft. cee-lo green) [from her forthcoming selah sue]
15. kid cudi, best coast & rostam batmanglij: all summer [from converse's 3 artists, 1 song series]
16. sucré: chemical reaction [from a minor bird]
17. admiral fallow: the paper trench [from tree bursts in snow]
18. b.o.b.: so good [from strange clouds]
19. walk the moon: anna sun [from walk the moon]
20. fiona apple: hot knife [from the idler wheel…]
enjoy!
// download the .zip //