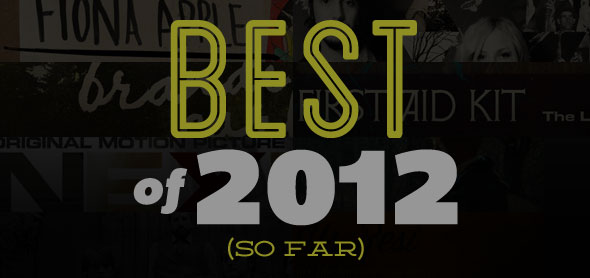 well, we've made it through the first half of 2012. all in all, i think it's been a decent year for music. there's been a few great albums and even more good albums (with plenty of, um, not so great albums). i think we've yet to hear what will ultimately become the year's best music, but no doubt, i expect many/most of these albums to make it onto my end-of-the-year list.
so with that said, here's my favorite albums of 2012 (so far):
20. some nights: fun.
19. hello: karmin
18. r.a.p. music: killer mike
17. reign of terror: sleigh bells
16. born to die: lana del rey
15. not your kind of people: garbage
14. what i saw from the cheap seats: regina spektor
13. a minor bird: sucré
12. fear fun: father john misty
11. master of my make-believe: santigold

10. blunderbuss: jack white
jack white's solo debut is a classic examples of what unreachable expectations can do to an album. i expected so much that there was no chance to be anything else but let down when i finally heard the album. with that said, it's still, obviously, one of the best albums of the year.

9. give us rest or (a requiem mass in c [the happiest of all keys]): david crowder band
i generally dislike "christian" music. even more than that, i dislike modern "worship" music. but crowder band's 2005 release, a collision, transcended those categories. since that time, it's been a bit disappointing, but give us rest—their final album—returned to that form.

8. swing lo magellan: dirty projectors
this album moves in a different direction than 2009's bitte orca. whereas that focused more on quirky, eccentric arrangements and styles, swing lo magellan is more about songwriting and a focus on dave longstreth's vocals.

7. the lion's roar: first aid kit
when you think of great modern folk music, you think of the swedes, right? ok, maybe not, but with the lion's roar, we might ought to start thinking that. if you love folk music that hearkens back to another time while being completely fresh and modern, this is the album to listen to.

6. old believers: cory chisel and the wandering sons
raise your hand if you've heard cory chisel? sadly, i doubt there are many hands. since the time i heard his 2008 debut ep, cabin ghosts, i've loved everything he's done and this album is his best music since that time.

5. sun midnight sun: sara watkins
sara watkins' 2009 debut album was, if i'm being honest, a little disappointing. while there were some high points, it didn't live up to my post-nickel creek expectation. sun midnight sun is thorough redemption for her. she's done exactly what nickel creek knew she could do with a great solo career.

4. who's feeling young now?: punch brothers
speaking of nickel creek, there's been absolutely nothing but great and unexpected things from chris thile's various ventures over the past several years. the latest punch brothers album is a continuation of everything we've come to expect: beautiful, intricate boundary-pushing music.

3. nexus ost: sola-mi
file this album in "things i could've never seen coming". out of nowhere, derek webb drops an electronic concept soundtrack album for a (fake) movie, nexus. based on the concept of the first machine to come alive, he's put together a masterpiece.

2. bear creek: brandi carlile
the voice. i can't say enough great things about the unparalleled voice that belongs to brandi carlile. as completely cliché as this is, she could sing the phone book and it would likely sound poignant and beautiful. bear creek is much earthier than her previous efforts, but none less beautiful.
1. the idler wheel is wiser than the driver of the screw and whipping cords will serve you more than ropes will ever do: fiona apple
there was no album so far this year that i've anticipated more than fiona apple's first album in 7 years. that kind of anticipation is typically a recipe for an underwhelming result, but when you're fiona apple, i don't think you know how to make a dud. this album marks the return not just of her music but her genius.
what good would a list of best albums be if you couldn't get at least a little sample of each album?
// download the zip //