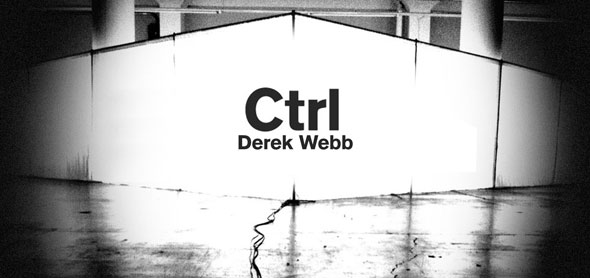 there's a burning question we've all been asking ourselves for a very long time:
what do you find at the convergence of soft acoustic guitar with hip-hop influenced rhythmic sensibilities and a heavy leaning on samples from turn of the century recordings of 'sacred harp' acapella recordings?
yes, life's mysteries…
chances are, not only have you never asked this question, but you're now just utterly confused.
just in case you're still reading, the answer to the question is derek webb's forthcoming album, ctrl, set to release on september 4.
you can't make this stuff up. "hip hop influenced rhythmic sensibilities" should probably never be legally allowed to be placed in a sentence with "turn of the century recordings of 'sacred harp'". (for the record, that is a sentence taken directly from provident distribution's product page.)
yet, with derek webb's musical journey over the last several years, these things are bound to make complete sense.
following the release of his incredible concept album with his band sola-mi, this will be his first "official" album since 2009's stockholm syndrome. i think it's relatively safe to say ctrl will be a logical progression from the work of sola-mi in terms of both the sound and, possibly, lyrical direction. we'll likely hear a largely electronic album (especially since VIP tickets for his upcoming tour include an acoustic version of the album) that relies on heavy sampling.
based on the album's description, you might be asking what 'sacred harp' is. i certainly had no idea. basically, it's a type of sacred choral music that is associated with shape note music. i grew up in churches that used an old shape note hymnal, so i'm a little familiar. with that said, you can read about it in length (and hear a sample) here.
in addition to the album announcement, he released the initial dates on "the square tour". i was excited (and very surprised) to find that he'll be making a stop in little rock on (thursday) september 6. the shows promise to be a unique and engaging experience. the website notes,
Every show on THE SQUARE TOUR will take place in a surprising, unconventional venue specifically selected to accommodate a unique four-sided stage and lighting/production rig designed and built exclusively for THE SQUARE TOUR.
should be fun. if you'd like to get special seating, an acoustic version of the album and a special q&a with derek webb, you can purchase VIP tickets. tickets can be purchased at his website.
until then, here's a strange little teaser for the album (and the tour).