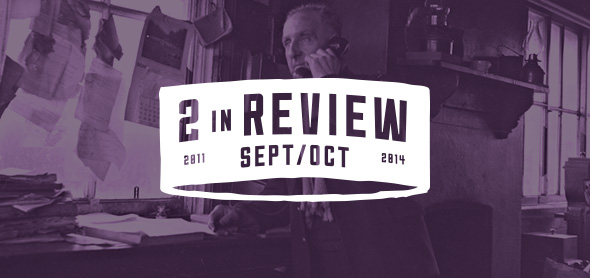 this little blog has been the victim of some serious neglect. shame on me. but if there's one thing i'm good for, it's every 2 months when it's time for another two in review, so let's do it again.
the last couple months have been pretty good for new music. underpinned by a few big names who have released long-anticipated new music (noel gallagher, gwen stefani, u2) along with a mix of new(ish) faces (verite, st. paul & the broken bones, empires), there's been a steady flow of worthwhile music. all in all, the 2014 trend of a not-so-great music year continues, but for now, i think this two in review came together pretty well.
so, here's the lineup for the september/october edition:
1. john mark mcmillan: monster talks (ft. bear rinehart) [from the borderland sessions]
2. hozier: jackie and wilson [from hozier]
3. betty who: just like me [from take me when you go]
4. jessie ware: kind of…sometimes…maybe (ft. j. cole) [from tough love]
5. alt-j: left hand free [from this is all yours]
6. noel gallagher: in the heat of the moment [from chasing yesterday]
7. gwen stefani: baby don't lie [from her upcoming album]
8. run the jewels: close your eyes (ft. zack de la rocha) [from run the jewels 2]
9. verite: echo [from echo ep]
10. you + me: capsized [from rose ave.]
11. bush: the only way out [from man on the run]
12. st. paul & the broken bones: call me [from half the city]
13. tennis: needle and a knife [from ritual in repeat]
14. horse feathers: violently wild [from so it is with us]
15. empires: please don't tell my lover [from orphan]
16. jennifer knapp: neosho [from set me free]
17. baauer: one touch (ft. alunageorge & rae sremmurd) [from ß ep]
18. calvin harris: pray to god (ft. haim) [from motion]
19. blake mills: don't tell our friends about me [from heigh ho]
20. u2: the troubles (ft. lykke li) [from songs of innocence]
get your download on, folks.