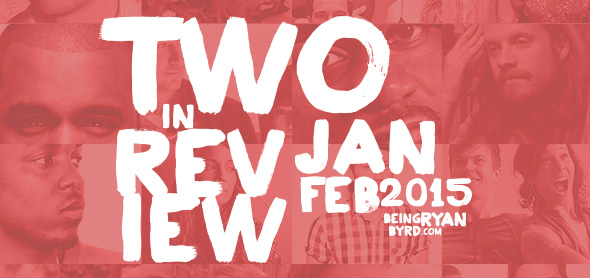 well folks, we're a couple months into a new year, which means, of course, another year of two in review.
it's been a particularly good couple of months of music. typically, january is an especially slow month for new (and good) music, so it's been really nice to hear a handful of really great songs. there's not been a lot of great albums, but there's been quite a few songs released that are teasing forthcoming albums. so, you'll find a lot of album-less songs on this edition of two in review.
so, here's the lineup for the january/february edition:
1. matt & kim: get it [from new glow]
2. alabama shakes: don't wanna fight [from sound & color]
3. brandi carlile: wherever is your heart [from the firewatcher's daughter]
4. father john misty: holy sh*t [from i love you, honeybear]
5. the lone bellow: if you don't love me [from the came the morning]
6. catey shaw: human contact [from the brooklyn ep]
7. kendrick lamar: the blacker the berry [from TBA]
8. will butler: son of god [from policy]
9. purity ring: push pull [from another eternity]
10. sufjan stevens: no shade in the shadow of the cross [from carrie & lowell]
11. the wind and the wave: don't you (forget about me) [from covers one]
12. rihanna and kanye west: fourfiveseconds [from TBA]
13. noel gallagher's high flying birds: riverman [from chasing yesterday]
14. emile haynie (ft. andrew wyatt & brian wilson): falling apart [from we fall]
15. florence & the machine: what kind of man [from how big, how blue, how beautiful]
16. mat kearney: billion [from just kids]
17. night terrors of 1927 (ft. tegan & sara): when you were mine [from everything's coming up roses]
18. badbadnotgood & ghostface killah (ft. danny brown): six degrees [from sour soul]
19. punch brothers: magnet [from the phosphorescent blues]
20. rae morris (ft. fryars): cold [from unguarded]
get your download on, folks.