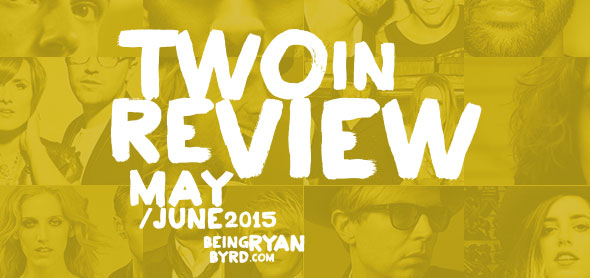 welp, it's time, friends, for another two in review.
i'm not sure if it's bee a great two months of music, but it's been good. there's not been any major standout albums, but there's definitely a few that have been solid showings and will likely find spots on my end-of-year lists. the big storyline on this two in review is that it's the first in a long time to feature no hip hop. given the fact that the last one had several hip hop tracks, it makes this even more surprising. regardless, it's a fun mix that i think you'll enjoy.
without further ado, here's the lineup for the may/june edition:
1. nate ruess: great big storm [from grand romantic]
2. david bazan: island ocean [from bazan monthly volume 2]
3. fleming & john: springtime [from TBA]
4. burlap to cashmere: tonilou [from freedom souls]
5. brandon flowers: diggin' up the heart [from the desired effect]
6. miguel: face the sun (ft. lenny kravitz) [from wildheart]
7. major lazer: powerful (ft. ellie goulding & tarrus riley) [from peace is the mission]
8. bhi bhiman: moving to brussels [from rhythm & reason]
9. kopecky: quarterback [from drug for the modern age]
10. jon foreman: terminal [from the wonderlands: sunlight]
11. veruca salt: empty bottle [from ghost notes]
12. josh garrels: the arrow [from home]
13. ms mr: how does it feel [from how does it feel]
14. duran duran: pressure off (ft. janelle monae) [from paper gods]
15. beck: dreams [from TBA]
16. ryn weaver: octahate [from the fool]
17. tanlines: slipping away [from highlights]
18. joy williams: sweet love of mine [from venus]
19. john mark & sarah mcmillan: heart won't stop [from you are the avalanche]
20. leon bridges: river [from coming home]
get your download on, folks.