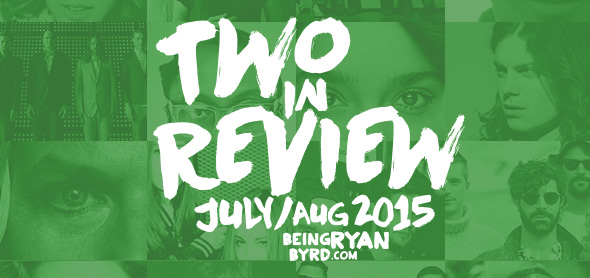 we find ourselves, once again friends, at another two in review.
this very well might be the best two in review of the year. undoubtedly, this was the hardest mix to put together due to the sheer volume of really good songs that could've easily been in the final version. i always begin by just making a list of good songs from the past 2 months, which usually consists of maybe 30ish songs. this time, though, the list was nearly 60(!) songs. so for every good song on this mix, just know there's another 2 or 3 that could've easily been included.
so without further ado, here's the lineup for the july/august edition of two in review:
1. ezra furman: ordinary life [from perpetual motion people]
2. kiiara: gold [from TBA]
3. chvrches: never ending circles [from every open eye]
4. dr. dre: one shot one kill (ft. snoop dogg) [from compton]
5. ms mr: tripolar [from how does it feel]
6. civil twilight: holy dove [from story of an immigrant]
7. elbow: lost worker bee [from lost worker bee ep]
8. chris cornell: nearly forgot my broken heart [from higher truth]
9. mutemath: monumnet [from vitals]
10. the black eyed peas: yesterday [from TBA]
11. lianne la havas: what you don't do [from blood]
12. børns: electric love [from dopamine]
13. kevin max: disappear (demo) [from stereotype be-sides]
14. haim: 'cause i'm a man
15. x ambassadors: renegades [from vhs]
16. foals: mountain at my gates [from what went down]
17. jess glynne: ain't got far to go [from i cry when i laugh]
18. the arcs: put a flower in my pocket [from yours, dreamily]
19. macklemore & ryan lewis: downtown [from TBA]
20. wondaland records (ft. janelle monae, deep cotton, st. beauty, jidenna, roman gianarthur & george 2.0): hell you talmbout [from the eephus]
get your download on, folks.




UPDATE:
commenter evan goodwin asked if i could do a second release of my "second-favorites" since i mentioned that there were so many great tracks that didn't make the final cut. i appreciate the feedback and actually thought this could be a good opportunity to talk about my process of selecting tracks and creating the final mix. it's been quite awhile since i've alluded to the process.
as referenced above, i always begin with making a brainstormed list in textedit that are either tracks that stood out to me in the last couple months or by perusing a smart playlist i keep in itunes of music added in the past 2 months. in this case, that added up to nearly 60 songs. from there, i'll select songs from that list to make a second list of "for sure" tracks (for example, on this mix, i immediately knew for sure about 10ish of the final tracks would be included.) i'll then make another list (culled from the original list) of songs that are "probably" songs, which in this case, consisted of maybe 15-17 songs. from there, i'll whittle down a bit more, making a "final cut" list of about 10-12. at the point, it's just a debate about which 2-3 of those don't make the final cut.
so, rather than posting a whole new mix, i thought i'd just post a list of the tracks and you guys are free to find them on the interwebs. 🙂
these 2 tracks were originally on the final mix, but got bumped at the last second:
1. noel gallagher: leave my guitar alone
2. jon foreman: june & johnny
then this is the list that made the "probably" cut:
1. kevin max: last night i dreamt somebody loved me
2. coeur de pirate: carry on
3. duran duran: last night in the city
4. jay rock & kendrick lamar: easy bake
5. method man: something from his new album, the meth lab
6. derek webb: the braver one
finally, here's a selection from the original brainstormed list (some tracks get deleted from textedit in the process, so there would've been a few more most likely):
1. warren g: my house (ft. nate dogg)
2. ivywild: tide teeth
3. watkins family hour: TBD
4. wilco: TBD
5. gungor: TBD
6. tame impala: 'cause i'm a man
7. veruca salt: TBD
8. lostboycrow: TBD
9. family of the year: face-paint
10. fka twigs: figure 8
11. grace potter: hot to the touch
12. kurt vile: TBD
13. natalie imbruglia: instant crush
14. mynabirds: TBD
15. public enemy: man plans god laughs
16. samantha crain: TBD
17. chemical brothers: under neon lights
18. verite: TBD
19. wavves: heavy metal detox
20. destroyer: TBD
21. melanie martinez: dollhouse
so there you have it. that's a bit of a peek behind the curtain. my goal with these mixes is to help people discover new music and artists and become fans. hopefully you can do a little searching for these tracks and give them a listen.