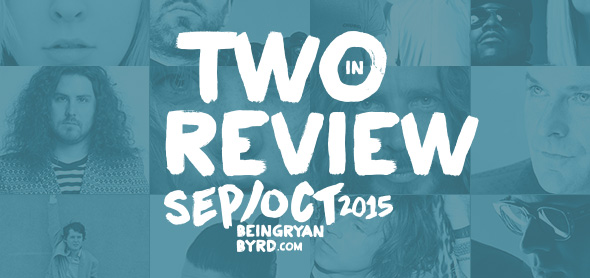 well, hello. it's two in review time again.
we've really hit a musical stride here in the last half of 2015. i suspected this could be a good music year and it's certainly delivered. i said last time that that two in review might be the strongest of the year. well, this mix rivals it. overall, they're pretty equal, but there's a few tracks on this that most assuredly end up on my list of best tracks of 2015 in early december. so, definitely some strong stuff here.
so without further ado, here's the lineup for the september/october edition of two in review:
1. mutemath: used to [from vitals]
2. børns: the emotion [from dopamine]
3. autre ne veut: panic room [from age of transparency]
4. arcade fire: apocrypha [from the reflektor tapes]
5. julia nunes: that was us [from some feelings]
6. city and colour: wasted love [from if i should go before you]
7. disclosure: magnets (ft. lorde) [from caracal]
8. big grams: drum machine [from big grams]
9. jr jr: in the middle [from jr jr]
10. kacy hill: arm's length [from bloo]
11. chris cornell: before we disappear [from higher truth]
12. kevin max: moon over bourbon street [from starry eyes surprise]
13. beirut: no no no [from no no no]
14. travis garland: bodies [from uppers & downers vol. i]
15. ryan adams: style [from 1989]
16. son lux: you don't know me [from bones]
17. grace: you don't own me (ft. g-eazy) [from memo]
18. josh ritter: gettin' ready to get down [from sermon on the rocks]
19. guy garvey: angela's eyes [from courting the squall]
20. st. lucia: dancing on glass [from TBA]
get your download on, folks.




UPDATE:
on my last two in review post, commenter evan goodwin asked if i could do a second release of my "second-favorites" since i mentioned that there were so many great tracks that didn't make the final cut. i listed them on the last mix, so i'll do it again here.
once again, rather than posting a whole new mix, i thought i'd just post a list of the tracks and you guys are free to find them on the interwebs. 🙂
these 3 tracks were originally on the final mix, but got bumped at the last second:
1. bleachers (natalie maines): who i want to love
2. prince: shut this down
3. jon foreman: mercy's war
then this is the list that made the "almost-but-not-quite" cut:
1. wavves: something from their new album
2. blitzen trapper: all across this land
3. chvrches: leave a trace
4. the decemberists: why would i now?
5. julia holter: something from her new album
6. janet jackson: burnitup (ft. missy elliott)
7. vanessa carlton: nothing where something used to be
8. thunderbitch: something from her new album
9. glen hansard: lowly deserter
and then there was a relatively long list of tracks that i originally brainstormed. there were about 50 total tracks.
so there you have it. hopefully you can do a little searching for these tracks on the interwebs and give them a listen.