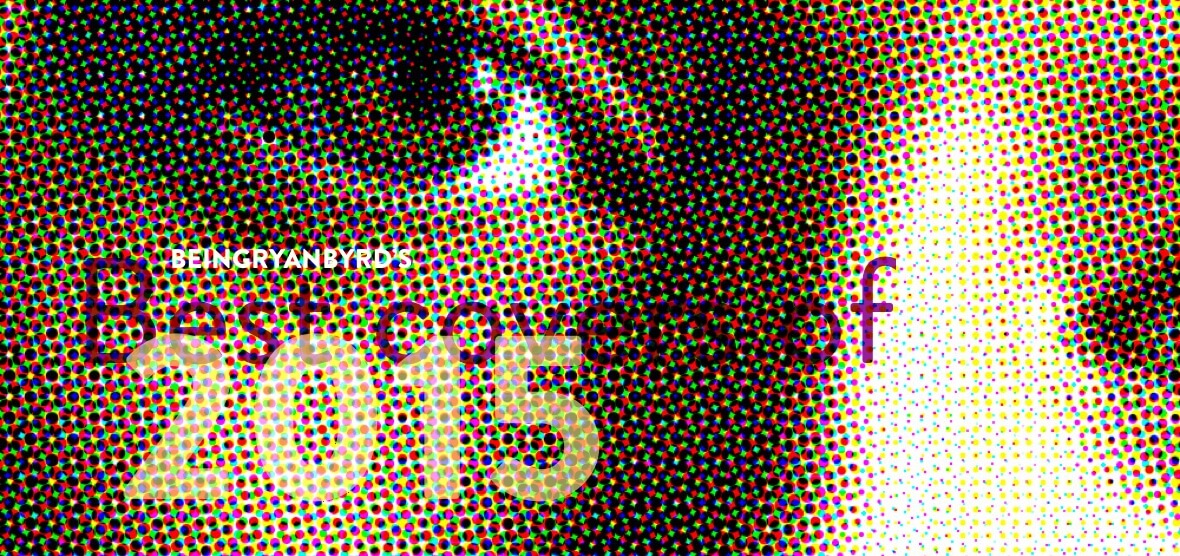 yesterday, i kicked off a week's worth of my best-of-2015 lists. truly, it's my favorite time of the year. here's what to expect this week:
this morning: new music discoveries
today: cover songs
tomorrow (tuesday): songs
wednesday: albums
(thursday: the year's final two in review)
as previously stated, it's been a particularly strong music year. frankly, that never waivers much when it comes to cover songs. each year, there's a stellar crop of artists who've successfully reimagined other artists' songs. no doubt, it's always hard to narrow down a list.
i always distinguish between 2 basic types of covers. first, there's the ironic cover in which an unlikely artist puts their own unique twist on a song you'd never expect (a good example this year is the wind & the wave covering r. kelly's ignition (remix)). on the other hand, there's the cover that masterfully reinterprets another artists' song. the ultimate examples of this might be jeff buckley's hallelujah or sinead o'connor's nothing compares 2 u. in the case of this list, most of my entries fall into the latter category (including almost all of the top 10).
without further ado, here's my top 40 cover songs of 2015:
40. slow club: desperado (the eagles)
39. the high fives: smells like teen spirit (nirvana)
38. will dailey: sprawl ii (arcade fire)
37. shawn mullins: i'm only sleeping (the beatles)
36. lower dens: maneater (hall & oates)
35. gallant: learn to fly (the foo fighters)
34. phox: miss you (blink 182)
33. lost in the trees: and your bird can sing (the beatles)
32. david bazan: read my mind (the killers)
31. john heart jackie: wild heart (stevie nicks)
30. watkins family hour: brokedown palace (the grateful dead)
29. ciara: paint it black (the rolling stones)
28. torres: special (garbage)
27. ezra furman: crown of love (arcade fire)
26. the delorean sisters: you make my dreams (hall & oates)
25. sean rowe: hold on, hold on (neko case)
24. kevin max: nature boy (nat king cole)
23. missio: zombie (the cranberries)
22. james blake: the sound of silence (simon & garfunkel)
21. father john misty: heart-shaped box (nirvana)
20. metric: feels like we only go backwards (tame impala)
19. tinashe: i wanna get better (bleachers)
18. flock of dimes & sylvan esso: don't dream it's over (crowded house)
17. sean rowe: ode to divorce (regina spektor)
16. kevin max: moon over bourbon street (sting)
15. twin caverns: gold digger (kanye west)
14. chris cornell: nothing compares 2 u (prince)
13. the wind & the wave: ignition (remix) (r. kelly)
12. pop etc: i won't back down (tom petty)
11. the delorean sisters: i wanna dance with somebody (whitney houston)

10. brandi carlile: simple man (graham nash)

9. ezra furman: devil's haircut (beck)

8. halsey: i walk the line (johnny cash)

7. ryan adams: style (taylor swift)

6. ellie goulding: take me to church (hozier)

5. the wind & the wave: don't you (forget about me) (simple minds)

4. haim: 'cause i'm a man (tame impala)

3. grace: you don't own me (ft. g-eazy) (lesley gore)

2. father john misty: the suburbs (arcade fire)

1. brandi carlile: murder in the city (the avett brothers)
so, what did i miss in 2015? let me know what i should go and check out before 2016 gets here.
as a bit of a end-of-the-year gift, you can download a mix with all 40 (!) tracks.