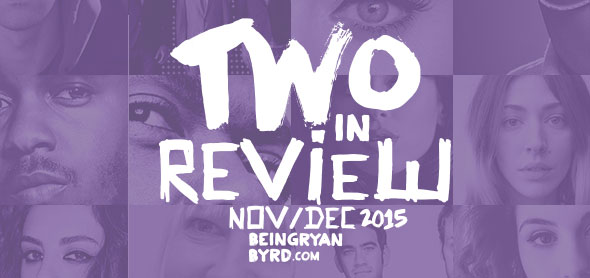 welp, this is it for 2015. indeed, we've made it to the end of another year, which means it's two in review time again.
i've spent the last several days posting end–of–the–year lists, which is always my favorite time of the blogging year. this week's entries have been a good way to close out the year and without getting into any specifics, i can say that this site and blog will become something very different in 2016. i'll post something more official in the coming weeks/months when i have a chance.
in the meantime, though, it's another two in review and this one came together quite a bit differently than other past editions. typically, these are culled from albums i've gotten over the past 2 months. in this case, though, new albums have been few and far between. quite frankly, whereas the year in totality has been good for music, there's been a bit of a dry spell in the last couple months. so, most of this music is one-off singles and pre-release tracks. no doubt, they're all still good, but just acquired in a very different way than how this mix usually comes together.
with all that said, here's the lineup for the november/december edition of two in review:
1. pusha t: untouchable [from king push – darkest before dawn: the prelude]
2. sleigh bells: champions of unrestricted beauty [from TBA]
3. steven a. clark: lonely roller [from the lonely roller]
4. coldplay: birds [from a head full of dreams]
5. rickolus: destroyer [from coconut]
6. mutemath: composed [from vitals]
7. adele: when we were young [from 25]
8. ceelo green: race against time [from heart blanche]
9. kendrick lamar: black friday
10. timbaland: shakin' (ft. aaliyah) [from king stays king]
11. foxes: amazing [from TBA]
12. chairlift: romeo [from TBA]
13. mr. oizo: hand in the fire (ft. charli xcx) [from hand in the fire ep]
14. sia: bird set free [from this is acting]
15. punch brothers: in wonder [from the wireless ep]
16. alessia cara: here [from know-it-all]
17. ellie goulding: on my mind [from delirium]
18. missy elliott: wtf (where they from) (ft. pharrell) [from TBA]
19. m.i.a.: borders [from TBA]
20. john mark mcmillan: carbon ribs [from live at the knight]
get your download on, folks.