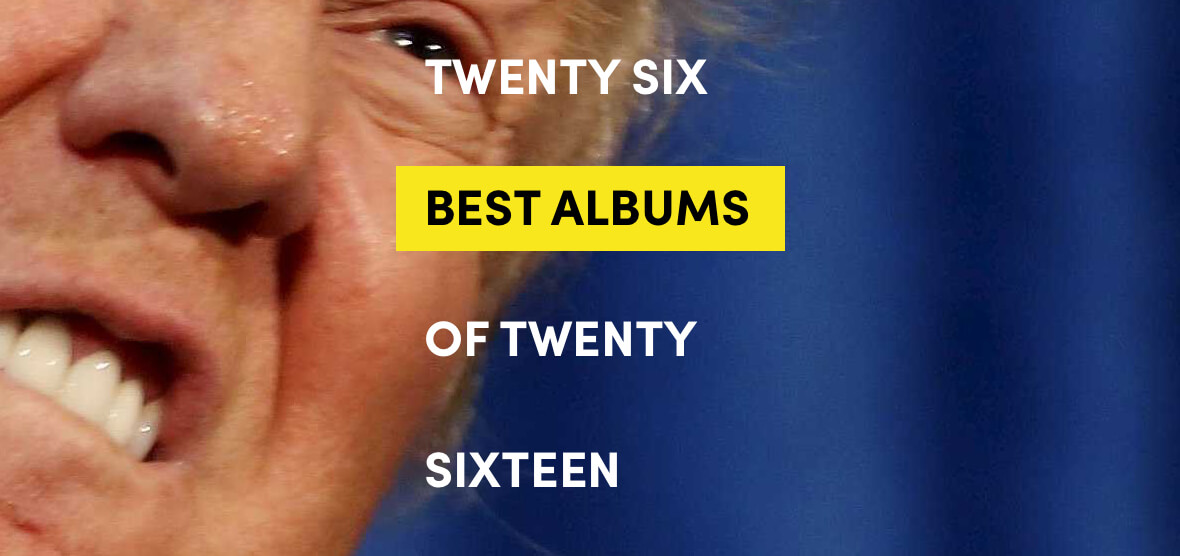 this week, i've been working through my best-of-2016 lists. there's been a lot of really great music so far. here's what the week has looked like:
monday: tv & movies
tuesday: new music discoveries
wednesday: cover songs
yesterday: songs
today: albums
best albums is always my favorite list. i'm a little old school in that i'd still rather sit down and listen to an entire album than just a single here or there. i think the long form tells me much more about an artist and their story than any individual track. so to me, a best albums list gives insight into the most talented and fully-realized artists.
2016 was a particularly strong year for music and it's reflected in this list. more than anything, it was a year that a lot of great music came from a lot of genres. there really is a little bit of everything here: from rap to indie rock to pop to even metal. i'm glad when lists like these offer something for everyone and i think this list does that.
without further ado, here's my top 26 albums of 2016:
26. bon iver: 22, a million
25. st. paul & the broken bones: sea of noise
24. sara watkins: young in all the wrong ways
23. st. lucia: matter
22. lissie: my wild west
21. grace: FMA
20. anderson .paak: malibu
19. a tribe called quest: we got it from here…thank you 4 your service
18. chance the rapper: coloring book
17. alunageorge: i remember
16. vince staples: prima donna
15. macklemore & ryan lewis: this unruly mess i've made
14. metallica: hardwired…to self destruct
13. garbage: strange little birds
12. bastille: wild world
11. steven page: heal thyself pt. 1: instinct

10. sleigh bells: jessica rabbit

9. gallant: ology

8. bruno mars: 24k magic

7. lucius: good grief

6. needtobreathe: H A R D L O V E

5. beyonce: lemonade

4. phantogram: three

3. young the giant: home of the strange

2. frank ocean: blonde

1. kanye west: the life of pablo



there's been so much written about the rollout for this album, and while it was undoubtedly an important part of this album, it's a bit overstated. if there would've been no hype prior to its release, it would've stood on its own as a master album from an artist who's been doing this for over a decade. don't get me wrong, this album could desperately use some editing. there's tracks that are just not good (i'm looking at you silver surfer intermission and freestyle 4…), but the highs are super high. which is why this is—far and away—my favorite album of 2016.
so, who did i miss in 2016? let me know who i should go and check out before 2017 gets here.
as a bit of a end-of-the-year gift, you can download a mix will a song from each album.