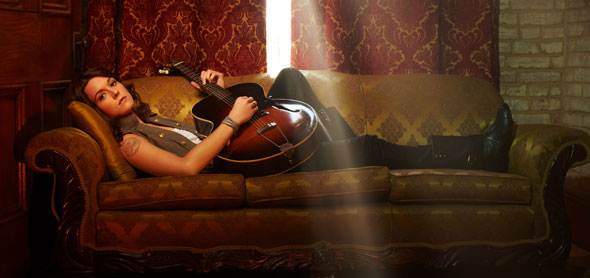 last night at the starlight theater in kansas city, christen and i had the pleasure of seeing a concert we've wanted to see for a very long time: brandi carlile (opening) and ray lamontagne. as expected, it was amazing. we saw brandi last year in new orleans (as the headliner) and it was, without a doubt, one of the top 1 or 2 concerts we've ever been to. we can now add last night's concert to that select list.
while ray was amazing (to say the very least), christen and i are both in agreement that we might just be bigger brandi carlile fans at this point. at minimum, we agree that if we had to choose between a ray and brandi show, we'd probably choose to see brandi. her full set is dynamic and has a little more energy than a ray show—as amazing as a ray show is.
so, not surprisingly, but still a little disappointingly, brandi's set was just under 45 minutes. by opening act standards (to be clear, the secret sisters were the opening opening act), 45 minutes is a pretty good length, but she's got so much stuff she was unable to perform.
what she did perform, though, was a brand new song called raise hell. interestingly, she said after the show, she was going to record it while in kansas city for her next album. while she said it might not make it onto the album, it was certainly a strong track that you could see being a significant contribution.
she talked about getting more in touch with her country roots and this song seems to indicate that. it certainly still lives in that alt country crossover grey world, it does tap into some of those roots. it's a great track and i hope it sees the light of day.
i made a little recording with my craptastic iphone voice memo app, so the sound quality isn't too great. it's adequate and you can hear the song, though. the only bad is that we were sitting in front a four people who were confused and thought they were at a sorority ice cream social and chatted it up the whole time. fortunately, my rage is in check and i didn't have to put them in a choke hold or kick them in the pants…
ok, enjoy.
brandi carlile / raise hell: