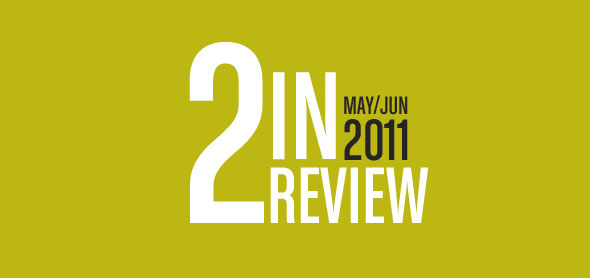 one year ago, i began a new blog series, of sorts, in which i compiled a mix of the best music i had discovered in the preceding two months. the series and mixes are called, two in review. read the original post for details of why i started this.
feel free to go back and check out past editions:
another couple months have passed by, so it's time to once again bring you two in review. as usual, there was a ton of great music that didn't make the cut due to my 20-track limitation. but with that comes a really strong list. i think i've said this every month, but this might be the best two in review to date.
here's the lineup for the may/june 2011 edition:
1. magic / leagues [from leagues]
2. satellite / eddie vedder [from ukulele songs]
3. equalize / gomez [from whatever's on your mind]
4. time after time / derek webb & sandra mccracken [from tn ep]
5. love on top / beyoncé [from 4]
6. the other country / burlap to cashmere [from the forthcomingburlap to cashmere]
7. every teardrop is a waterfall / coldplay [from their forthcoming fifth studio album]
8. michicant / bon iver [from bon iver, bon iver]
9. oh my god / cults [from cults]
10. vocal chords / dale earnhardt jr. jr. [from it's a corporate world]
11. god only knows / derek webb [from democracy vol. 2]
12. (it) feels so good / steven tyler [from his forthcoming debut solo album]
13. farther along / josh garrels [from love & war & the sea in between]
14. april fool / manchester orchestra [from simple math]
15. we are stars / the pierces [from you and i]
16. the tourist / sarah jarosz (ft. the punch brothers) [from follow me down]
17. the way it goes / gillian welch [from the forthcomingthe harrow & the harvest]
18. owata / smashing pumpkins [from teargarden by kaleidyscope ]
19. fragile bird / city and colour [from little hell]
20. polka face / weird al yankovic [from alpocalypse]
enjoy!