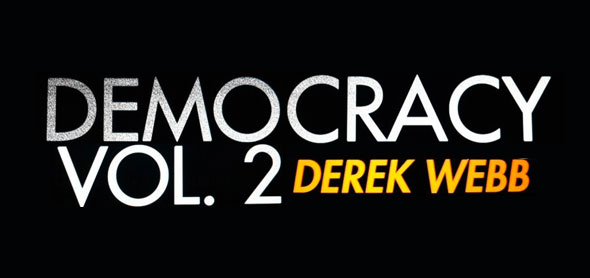 EDITORIAL NOTE :: a few weeks ago, i had a brief (but positive) twitter exchange with derek webb. much to my surprise, it seems he has kept up with this democracy wins blog series. while he was greatly appreciative of my reviews and support, he expressed concern over the lack of a call to action, if you will, for the reader/listener to go purchase the collection of songs. here was one of his tweets:

so, please allow me direct you to derek's store where you can purchase the album. it's only $5, which is a ridiculously low price for this collection. the other great thing about purchasing right now is that you don't have to wait 30 days for the next track (at least for the preceding 7 tracks). 🙂
———————————————————————————
if you'd like to take a look back at 2010's democracy vol. 1, you can find all those posts through the following links:

january | february | march | april | may | june | july | august | september | october | november | december
throughout the year, i've been blogging about derek webb's ongoing project called democracy vol. 2. fans were able to cast votes for up to 10 songs that they wanted webb to cover. then, the 10 songs receiving the most votes would be covered by webb for the album. the collection is being recorded over the span of 2011, with 1 track being recorded and released each month. from march to december, webb has/will release 1 track each month. for those who would like to catch up, here's links to each month's blog posts so far:
1. cee lo green: f**k you
2. bon jovi: livin' on a prayer
3. the beach boys: god only knows
4. u2: one
5. traditional: be thou my vision
6. simon & garfunkel: bridge over troubled water
a couple days ago (hey, it's been a busy couple days…), we found out september's track: the beatles' revolution.
while this is the first beatles track we've gotten in 2011 (we got a couple last year), i had a bit of an eye roll moment. obviously, they have great songs but there's only so many times you can hear a beatles song covered until it sounds exactly the same every single time.
but.
derek webb has once again surpassed my assumptions. here was his tweet as a teaser for the track (before it's release):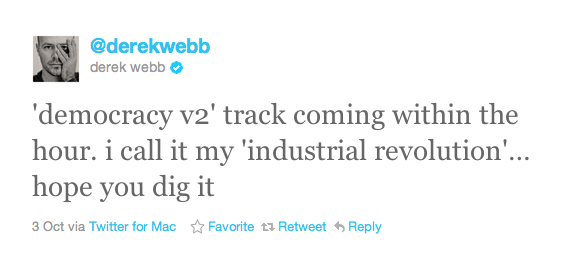 and that's exactly what we got: an industrialized version of revolution. the track is really good. in fact, i think it's one of the best of the year. right from the opening 10 seconds, you get this sorta proggy, nine inch nails/radiohead-influenced, crunchy/glitchy track that signals this isn't your dad's beatles. much like last year's while my guitar gently weeps, webb has cast a new vision for a classic and made it his own.
as always, don't take my word for it. check it out for yourself. you can purchase the entire collection by clicking here or you can listen to it here.
derek webb / revolution: