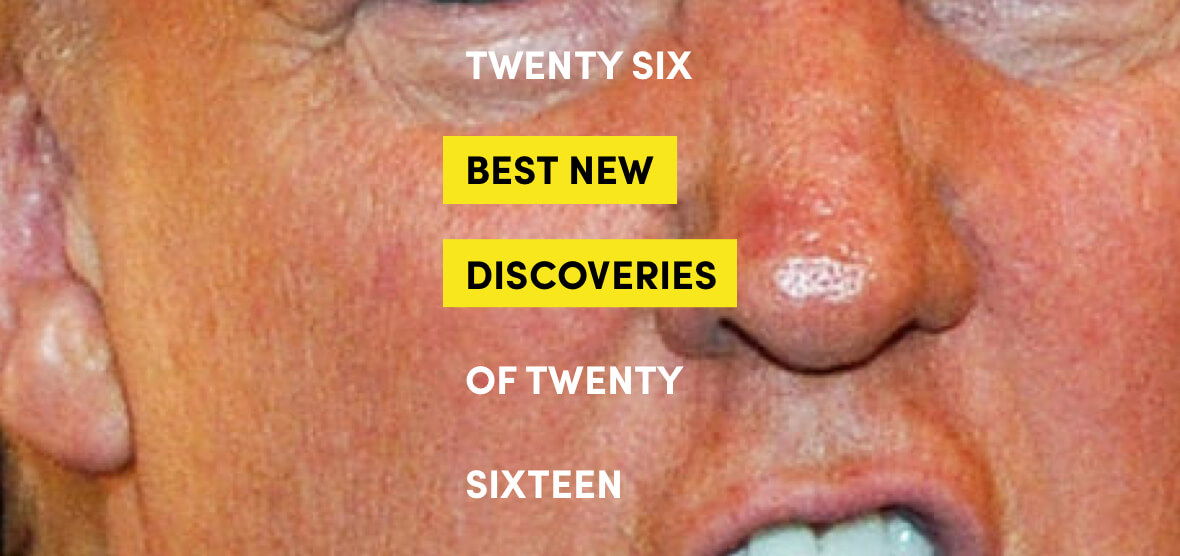 yesterday, i kicked off a week's worth of my best-of-2016 lists with the best tv shows and movies. here's the lineup for the week:
yesterday: tv & movies
today: new music discoveries
tomorrow (wednesday): cover songs
thursday: songs
friday: albums
it's been a particularly strong music year, but for whatever reason, it's not been a big year (for me, at least) for discovering new artists. don't get me wrong, there's a lot of good stuff on this list, but there just wasn't a lot of game-changing new artists for me.
nevertheless, it's still a strong list. hopefully there's a number of artists and bands you've never heard of. my goal with my year-end lists is always, first and foremost, to help people discover great new music. this list shouldn't be any different.
editorial note: a clarification i offer every year with this list is that these aren't necessarily brand new artists. artists in this list fall into one of four categories:

1. they're a brand new artist
2. they released their first full length album this year (as opposed to only an EP).
3. they're a first-time solo artist (for example, steven tyler has been making music with aerosmith for decades, but this year he released his debut solo album)
4. i just discovered them this year (for example, young the giant has put out a couple albums, but i'd just never given them a listen until this year).
so, let's get to it. here's my top 26 new music discoveries of 2016:
26. wild beasts: boy king
25. wet: don't you
24. night riots: love gloom
23. nice as f*ck: nice as f*ck
22. steven tyler: we're all somebody from somewhere
21. shura: nothing's real
20. sam beam & jesca hoop: love letter for fire
19. saint motel: saintmotelevision
18. banks & steelz: anything but words
17. francis & the lights: farewell, starlite!
16. beaty heart: till the tomb
15. case/lang/veirs: case/lang/veirs
14. margaret glaspy: emotions and math
13. july talk: touch
12. hamilton leithauser & rostam batmanglij: i had a dream that you were mine
11. wild belle: soft

10. glass animals: how to be a human being

9. kiiara: low kii savage

8. jack garratt: phase

7. bishop briggs: bishop briggs

6. anderson .paak: malibu

5. vince staples: prima donna

4. grace: FMA

3. gallant: ology

2. lucius: good grief

1. young the giant: home of the strange



i'd heard of young the giant in the past (they've put out 2 previous studio albums), but i just never paid any attention to them. but after hearing just a little buzz about this album, i decided to give it a chance when it released and i obviously wasn't disappointed. musically, it's great, but it goes to another level with the band origins and the album's content. they're a band that is fully comprised of immigrants (to the US) who made an album dealing with the ins and outs of life in america. that makes for a particularly insightful album that turned out to be one of my favorites of 2016.
so, who did i miss in 2016? let me know who i should go and check out before 2017 gets here.
as a bit of a end-of-the-year gift, you can download a mix with a track from each artist.