Category: graphic design

we've spent the better part of the last 12 months watching the dog and pony show that is known as the republican primary season. this entire process has been, to say the least, entertaining to behold. this is quite the crop of candidates. i mean that in the so-painful-to-watch-yet-so-awesome sense of the word.


i'll reserve much political commentary in this post. quite frankly, i have plenty of opinions of the republican field, but regardless of who wins the nominee, i'll be voting for barack obama. and i really think you should also.

at this point, it certainly isn't breaking news that steve jobs passed away a couple days ago. the news came in torrents, particularly via social media. for a solid 24 hours, little else was talked about. even at the time of this writing, 2 of the top 10 trending topics on twitter are steve jobs-related.


the most interesting aspect of the deluge of tweets was how sincere the response was. there was a genuine expression of sadness and loss (myself included). when celebrities die, there is plenty of emotional response—particularly from musicians—because their art becomes woven into the very essence of our lives.


but steve jobs was a retired ceo.


of a tech company.


so why do people really care? undoubtedly, in 2011, at least a handful of CEOs of large, successful companies have passed away. but can we name them? no. and there's been a handful of recognizable celebrities die in 2011 but they haven't clogged social media streams like this. so why do we (particularly 20- and 30-somethings) care about steve jobs?

i think it's time for a good apple post. it's been awhile. how 'bout it?


a couple months ago, the true fanboys rushed over to youtube to watch what was almost surreal in some kind of tech world/hollywood celeb meets real life mashup: steve jobs presenting to the cupertino city council. at said city council meeting, jobs presented apple's plans to build what has been dubbed—very appropriately—the mothership. apple's new campus will be a round glass, 2.8 million square feet building that will house thousands of employees. this will truly be the big apple. (see what i did there?) inside that 2.8 million square feet will be a 25,000 square foot fitness center, a 36,000 square foot dining area and a 100,000 square foot auditorium (presumable for future keynotes?).


at the presentation, jobs showed some pictures and people were able to get a quick look at the building. but now, the city of cupertino has made all the plans public (including a plan overview, landscaping diagrams and floor plans). most notably, apple included quite a few renderings that look, well, amazing.


i've been wanting to create an infographic for a very long time. not only do i love them, but i've had a particular project i've been working on for quite a long time that lends itself to an infographic. while i'm still working on that project, i recently had an opportunity where this type of presentation seemed like a good fit.


the project was a handout/"promotional" graphic we assembled to solicit volunteers for our 4 primary connecting points at eikon. we've been preparing to put a little more shape and form to these various aspects of our church and lining up volunteers was one of the primary things we needed to do in order to bring that to fruition.


as many of you know (and i've been meaning to blog about it for those who do not…), we moved into a new house a few weeks ago and we're loving it. we have double the space, a big backyard and the house is just beautiful.


one of the not-so-great things is that the girls have had a hard time adjusting to bedtime in their new bedroom upstairs. it's not really that they're scared, but actually, that they love their room (and playroom) so much that they just don't want to go to sleep every night. since being here, we've had a couple nights that we literally spent 2 hours from the time they got in bed until they were actually sleeping. it's been incredibly frustrating.


we have a beautifully strange little group of people at eikon church. (i tell them this often.) we certainly embrace our quirkiness and a couple nights ago at our weekly gathering, i was able to express that uniqueness in an unexpected and fun way.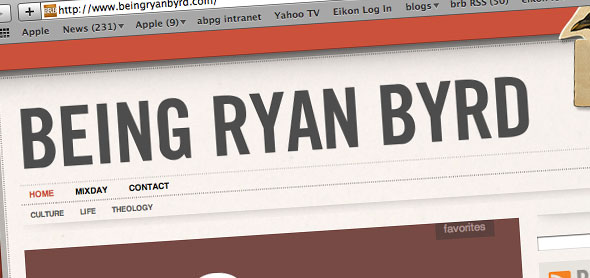 in june 2010, i decided i wanted to redesign my website and began the transition/redesign process.


in the wee hours of the morning a couple nights ago (in december 2010), i finally finished it.


and ladies and gentlemen, here's what i came up with.